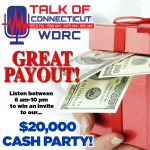 We want you to give you a GREAT PAYOUT!!
Listen Weekdays every hour starting Monday 10/23  from 6a til 10p for the special Keyword. (it will happen on or around :15 past the hour)
Text that keyword to 888-111-  to qualify for an exclusive invite to our $20,000 Holiday Bash at Avalon inside Mohegan Sun!
For Contest rules click Contest-Rules
---