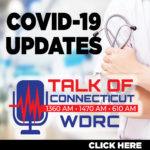 State officials released a guide explaining which businesses are considered essential and non-essential on the "Stay Safe, Stay Home" Executive Order. The order goes into effect Monday at 8 p.m. and orders all non-essential businesses to close. To see the full breakdown of what is considered essential and non-essential, click here.

March 25

The White House and Senate leaders struck a major deal early Wednesday morning over a $2-trillion package to provide a jolt to an economy struggling amid the coronavirus pandemic. The full details have yet to be released. But over the last 24 hours, the elements of the proposal have come into sharper focus, with $250 billion set aside for direct payments to individuals and families, $350 billion in small business loans, $250 billion in unemployment insurance benefits and $500 billion in loans for distressed companies.

Hartford Hospital to supply workers with N95 masks

Hartford HealthCare announced in a press conference Wednesday that every clinical employee will receive an N95 or surgical mask. Hartford Healthcare is expecting 12-15,000 masks to come in.

Gov. Lamont announced two additional deaths and over 200 new infections have been reported in Connecticut.
The state's total number of coronavirus deaths reach 12. Total cases rise to 618.

More than 5,300 tests have been reported to date.

Gov. Lamont says Connecticut schools are likely to remain closed until fall
Cromwell and South Windsor have reported confirmed cases
Gov. Ned Lamont said the current count of COVID-19 confirmed infections in the state stands at 415 and ten people have died.

March 24

In a radio interview , Gov. Lamont said Connecticut schools will likely be closed until the fall.  A statement from his office said

"The Governor is looking at this public health crisis as potentially lasting a longer period of time than initially thought, which he has said publicly before and is consistent with federal CDC suggestions of class cancellations for up to 6-8 weeks. The goal is to have frank discussions with superintendents and the education community as this situation unfolds. Governor Lamont is telling school systems they must be prepared for a potentially unprecedented break from classes being held in schools as a result of the coronavirus to ensure students, teachers, staff, and parents are safe."

Hartford HealthCare said it is bracing for a surge in patients. The number of cases is expected to significantly go up. It said the virus is affecting almost all communities in Connecticut. The criteria for screening for COVID-19 was also changed after a number of patients experienced abdominal pain and diarrhea. 

March 23

Naugatuck announced its first positive case of COVID-19. Officials said the person who contracted the virus has been working directly with the health department. The health department has confirmed that there is no risk to the community.
The Naugatuck Valley Health District announced the first confirmed case of COVID-19 in Derby. The resident will remain in quarantine at their home. 
The two people who died from COVID-19 were a man in his 50s who live in a private residence in Norwalk and was recently hospitalized at Norwalk Hospital. The other person was a man in his 70s who lived in a private resident in Newington and was recently hospitalized at St. Francis Hospital.
The Department of Labor received more than 72,000 new unemployment claims from Friday, March 13 to Friday, March 20.
Over the weekend, the DOL received approximately 17,000 new claims.
On Monday, March 23, the DOL received approximately 10,000 new unemployment claims.
The first Connecticut Department of Correction employee has tested positive for COVID-19. The employee was assigned to the Garner Correctional Institution in Newtown and has been self-monitoring at hoe. 
Gov. Lamont said there are now 415 positive COVID-19 cases in the state, and 10 deaths, and 54 are hospitalized
As of Monday afternoon, 4,500 tests have been conducted statewide
Lamont said schools in the state could be reopening on April 20, at the earliest, but this is not a firm date

Two Branford residents test positive for COVID-19. The patients are male, between the ages of 63 and 70

The UConn Health Center began testing for COVID-19.
The Town of South Windsor Health Department confirmed two cases of COVID-19 and is working on contact investigations. The cases involved women between the ages of 18 and 30.

March 22 

Officials have confirmed a case of coronavirus at ESPN in Bristol. A spokesperson says the individual has not been in the office since March 13. 
Cromwell Town Manager Tony Salvatore confirmed that an 84-year-old male tested positive for COVID-19, making it the town's first case. The man is not being hospitalized and is being monitored closely. Salvatore adds that the patient is doing very well at this time.
Governor Lamont has announced three more coronavirus deaths, bringing the total in the state to eight.
Five have died in Fairfield County, two in Tolland County, and one in Hartford County.
The number of positive cases has risen to 327: 208 in Fairfield County, 54 in Hartford County, 12 in Litchfield County, 6 in Middlesex County, 29 in New Haven County, 3 in New London County, 14 in Tolland County, and 1 in Windham County.
Of those cases, 51 are hospitalized.
Officials in New Haven confirmed two new cases in the city, bringing the total number to 12. 
A homeless man that tested positive had escaped care at the hospital and is now in police custody. 
A child has also tested positive for COVID-19.
Town officials announced two new cases of coronavirus in Stratford. A male in his 40s and a female in her 80s have tested positive. 
Officials say the child that previously tested positive has recovered.
Officials with Day Kimball Hospital confirmed that an obsetrics and gynecology physician tested positive for the coronavirus on March 19. The Day Kimball Hospital is working to contain the case and safeguard the well being of its patients, volunteers, visitors, and staff.
Fairfield University announced online classes will continue for the rest of the spring semester. 
The school's residence life team will contact students on Monday with instructions on when students can pick up their belongings. 
The 2020 Commencement will not be held in May as scheduled, but the school is making arrangements for them to be held at a later date.
Officials confirmed there are 5 patients at the Evergreen Health Center in Stafford Springs that tested positive for COVID-19. Four patients are in the center and one is in the hospital. 
The Newtown Health District announced the town's first case of COVID-19. Officials say that the patient, a woman between the ages of 25 and 49, is currently isolated and recovering at home. The district is also working on notifying all those that have recently come in contact with her. 
New Britain Mayor Erin Stewart announced on Twitter the city's first confirmed case of coronavirus. Mayor Stewart says that they were treated at UConn Medical Center and were later released. They are now quarantined in their home for 14 days and are working with the city's public health department. Mayor Stewart adds that the party is resting and doing well.

March 21

Governor Ned Lamont is asking residents to consider signing up for the CTAlert system for phone and text message update about emergency alerts in the state.

Governor Lamont has announced another coronavirus-related death. This brings the total to five in the state. 
The person who died is a man in his 80s who was a resident of a nursing home in Stafford Springs. He had been receiving treatment at Johnson Memorial Hospital.
The number of positive cases has risen to 223: 140 in Fairfield County; 35 in Hartford County; 11 in Litchfield County; 24 in New Haven County; 6 in Middlesex County; 5 in Tolland County; 1 in New London County, 1 in Windham County.
Of those cases, 43 people are hospitalized. 
Middletown Mayor Ben Florsheim confirms the city's first positive case of COVID-19. The 50-year-old man is self-isolating at home. 
The Department of Public Health has confirmed the first positive case of COVID-19 within the jurisdiction of the Uncas Health District. The patient is a 42-year-old Norwich resident.
The University of Hartford says remote instruction will continue through the end of the Spring semester. Students that remain on campus during Spring break have been asked to return home.
Connecticut's Department of Revenue Services (DRS) is extending the filing and payment deadline for personal income tax returns 90 days, to July 15, 2020. The extension also applies to Connecticut estimated income tax payments for the first and second quarters of 2020.

March 20

Governor Ned Lamont announces the fourth patient to die of COVID-19 in CT was a woman in her 80s who had been living in her private home in Norwalk. She was receiving treatment at Norwalk Hospital. 
Bristol Health announces an employee has tested positive for COVID-19. The employee has been notified as well as any co-workers or patients the employee may have had contact with. 
Governor Ned Lamont announced the fourth coronavirus-related death in the state. The number of positive cases has risen to 194: 122 in Fairfield County; 29 in Hartford County; 8 in Litchfield County; 23 in New Haven County; 8 in Middlesex County; 4 in Tolland County; 1 in New London County, 2 in Windham County.
40 people have been hospitalized in connection to the virus. 
Gov. announces Stay Safe, Stay Home policy, ordering non-essential businesses to close, those over 70 to stay home. Essential businesses would include: food, grocery stores, healthcare, pharmacies, gas stations. This goes into effect Monday at 8 p.m.
West Hartford confirms first case of COVID-19. The patient is between the ages of 20 and 30 years old
The State Department of Public Health reported a positive case of COVID-19 in Haddam, a resident over age 70 who has had very limited contact with others. The resident has been self-isolating. He is recovering from the infection. His symptoms are improving daily.
East Lyme reports first case of COVID-19. The patient is a 44-year-old female
New York Gov. Andrew Cuomo ordered all non-essential workers in the state to stay home in an effort to stop the spread of the coronavirus.
Griffin Health was approved to provide a drive-up collection facility for COVID-19 testing by the Department of Public Health. It'll happen on the Griffin Hospital campus in Derby.
Only people with a valid order from a licensed health care practitioner can be tested. Those with an order can scheduled an appointment at 203-437-6815.
Testing will be done Monday-Friday 8 a.m. to 5 p.m. and Saturday and Sunday 8 a.m. to 3 p.m.
Central Connecticut State University announced that it moved its 2020 spring commencement and joined it with the winter 2020 commencement. This comes after the CSCU system announced earlier this week that all commencements were canceled.
Cases amount to 244,500 with more than 10,000 deaths worldwide. More than 86,000 people have recovered, mostly in China.
U.S. death toll topped 200 with more than 14,000 people infected.

March 19

The Stratford Health Department announced the second presumptive case of COVID-19 in a Stratford High School student is reported to be negative.
Governor Ned Lamont has announced a third coronavirus-related death in the state. A man in his 80s from New Canaan died from the virus. This is the second person from New Canaan to die. 
A member of the CT House of Representatives has tested positive for COVID-19. Rep. Jane Garibay confirmed she tested positive and is self-quarantining at home. 
63 more residents test positive for COVID-19, bringing total to 159. 
Enfield announced the first confirmed case of COVID-19 in the town. The patient is a 26-year-old Enfield resident. 
Bloomfield closes town offices to the public until further notice
Four Hartford police officers, who returned from international travel on March 10, have tested positive for COVID-19. A fifth officer was in contact off-duty with one of the officers prior to receiving test results. All are under self-quarantine at home.
The officers were on personal leave and traveled to Spain, which was not on the CDC's list of countries with coronavirus advisory at that time. 
Gov. Lamont announces the state's presidential primary will now be on June 2.
Gov. Lamont said he will issue an executive order on Thursday directing the closure of establishments like nail salons, barber shops, and hair salons
Meriden confirms first case of COVID-19. Officials have reached out to close contacts of the patient and will quarantine for 14 days
University of Connecticut students are allowed to move off campus early as the remainder of the spring semester moves to online classes.
March 18
State Representative Bobby Gibson says a employee of the Bloomfield Wells Fargo Bank has tested positive for COVID-19. Wells Fargo is closing and cleaning the location. 
Gov. Ned Lamont confirms 97 cases of COVID-19 in the state: 69 in Fairfield County; 11 in Hartford County; 5 in Litchfield County; 10 in New Haven County; 1 in Middlesex County; 1 in Tolland County
Nursing home resident at Evergreen Health Facility in Stafford Springs tests positive for COVID-19 
Gov. Lamont announces first death of a person in Connecticut due to severe complications from COVID-19.
The patient, a man in his 80s, had recently been admitted to Danbury Hospital, where he was receiving treatment. He had been a resident of an assisted living facility in Ridgefield
CT joins NY, NJ, PA in announcing closure of indoor portions of large retail shopping malls, amusement parks, and bowling alleys, effective at 8 p.m. on Thursday, March 19
Hospital of Central Connecticut is treating its first two positive COVID-19 patients (a husband and wife in their 70s) currently hospitalized and in isolation.
March 17

The Connecticut Post Mall in Milford will temporarily close as of Thursday, March 19. The mall did not announce when they plan to reopen, but said they will continue to monitor the status of COVID-19 and reopen when health authorities recommend it.
Connecticut State Colleges and Universities announces that all 17 CSCU institutions continue onl
online classes for remainder of spring semester. All in-person commencement activities are canceled
DMV announces all branch offices will be closed until further notice. Employees can continue to report to their work locations, unless otherwise instructed, and will assist with transactions that are completed online, through the mail and by phone through Interactive Voice Recognition.
UConn announces classes remain online for rest of semester. Commencement exercises canceled. Students who left campus will be contacted to retrieve belongings from residence halls
A woman from Waterbury who tested positive traveled to northern Italy with her family. Four other people she was with are also being tested.
Waterbury's emergency management director confirmed the city's first confirmed case.
Gov. Ned Lamont said the number of cases could climb after 200 workers at a healthcare network with ties to Connecticut may have been exposed.Nuvance Health Services serves Sharon, New Milford, Norwalk and Danbury hospitals, along with three hospitals in New York. The impacted employees have been asked to stay home.

March 16

There were 29 cases in Fairfield County, four cases in Litchfield County, four in New Haven County, and four in Hartford County.

Waterbury: Woman in her 20s from the city who traveled to northern Italy with four other people.
Westport: 20 cases confirmed on Monday
Hartford County: Patient admitted to UConn Health Center in Farmington, but discharged to quarantine.
New Haven: Two cases, including a Yale-New Haven Hospital worker. One additional case is being monitored.
Norwalk: A man in his 40s tested positive.
Rocky Hill: A woman in her 80s was positive and is now at Hartford Hospital.
Greenwich: Two cases, a man in his 40s and another man in his 20s.
Darien: A man in his 50s tested positive.
Wilton: The patient was between the ages of 40 and 50. The infection is believed to have happened during a trip to California.
Bethlehem: Three cases, a woman in her 60s who is a healthcare worker at Bridgeport Hospital, a woman in her 30s and a man in his 60s.
New Canaan: An elderly man tested positive on Wednesday. The case is not connected to any known cases in the state, and Dept. of Public Health is assisting medical professionals to trace it.
Stratford: A child tested positive. Before the positive test was announced, Wilcoxson Elementary School was closed after learning a student was exposed to a confirmed case.
Stamford: Patient did not contract virus in the United States or in Stamford. The patient returned from international travel on March 10 and was preemptively isolated at Stamford Hospital. They tested positive on March 11.
Milford: Resident tests positive for COVID-19

Executive orders (as of March 16)

All schools closed for two weeks
Waiver of 180-day school year
Flexibility of graduation requirements
Flexibility of educator prep programs
Flexibility for educator certification timelines, educator evaluations and school in-services
Prohibition of large gatherings of 50 people
Limits on nursing home visits
Extension of DMV licensing renewal deadlines, suspension of other DMV requirements
Modification of police academy attendance requirements
Suspension of in-person open meeting requirements
Waiver of manufacturer registration requirement for hand sanitizer
Suspension of garbing requirements for non-hazardous compounding of sterile pharmaceuticals
Refunds of certain liquor license application frees permissible
Waiver of face-to-face interview requirements for temporary family assistance
Flexibility to maintain adequate childcare resources
Flexibility to provide for adequate healthcare resources and facilities
Municipal budget deadline extension
Extension of regional Board of Education Budget Adoption deadlines
Remote conduct of DMV operations
Limits on visitors to facilities that treat persons with psychiatric disabilities
Limits on visitors to Southbury Training School
COVID-19 information sharing between facilities that treat patients with disabilities

March 16

Bristol-Burlington Health Districts says all licensed hair salons, nail salons, barbers, tattoo parlors to close by 5 p.m. Monday
Lamont: 200 employees of Nuvance Health, which has locations in CT and NY, may have come in contact with COVID-19 and are staying home. Lamont did not specify which locations were impacted. 
Connecticut's casinos, which are considered sovereign nations, announced to close as of 8 p.m. on Tuesday, March 17.
Gov. Lamont makes decision to close several businesses at 8 p.m. The businesses include gyms, restaurants, bars and movie theaters. Restaurants and bars may only offer takeout, curbside pickup or delivery to customers at that point. Exceptions to the announcement would be grocery stores, pharmacies and gas stations.
Lamont announces 15 new cases on Monday, bringing total to 41
Westport says 20 residents have tested positive for coronavirus
DMV commissioner says executive team member who works within agency's Wethersfield office tests positive. Person hasn't been at work since March 10, currently at home recovering
Milford announces case of coronavirus, declares Civil Preparedness and Health Emergency
Old Saybrook declares local state of emergency

March 15

All CT schools to close by the end of business Monday
26 coronavirus cases confirmed so far in the state
Patient at UConn Health tests positive for COVID-19
Faculty member at Eastern CT State University tests positive for COVID-19
Federal Reserve cuts rates to zero to support economy

 

March 14

State confirms 20 positive coronavirus tests thus far
Yale confirms case
President Donald Trump gets tested for coronavirus, results come back negative
Trump extends current travel ban to include the U.K. and Ireland
Massachusetts shuts down all state casinos
March 13
AMC Theatres announced on Friday that they are proactively reducing the maximum capacity of each of its theaters by at least 50%, according to a press release.Beginning Saturday through April 30, the movie theater chain will cap ticket sales for each of its theatre's auditoriums to an amount equal to 50% of the normal seating capacity.Adam Aron, CEO and President of AMC Theatres, said "with this action, we are facilitating the 'social distance' between guests who still want to see movies on a big screen."The company is also enhancing its cleaning protocols by cleaning "hightouch" point areas at least once per hour, the company said.There are AMC Theaters in Bloomfield, Plainville and Southington.
The Northeast Fishing and Hunting Show next weekend at the Ct. Convention Center was cancelled.
State Legislative Buildings closed until March 30th.
Bushnell postponed all shows and events through March 30th.
Joe Biden cancelled his appearance in Hartford next week.
New Haven issued an emergency order to implement half-occupancy for city establishments. Any business with a capacity of 16 or more needs to halve their occupancy, such as movie theaters, symphony and concert halls, television and radio studios, casinos, nightclubs, restaurants and bars. This takes effect Sunday.
All 11 Connecticut cases are in Litchfield and Fairfield counties.
Over 140 schools have closed.
New Britain has imposed a 10pm curfew for students under the age of 16 now that schools have closed.
Chief Operating Officer Josh Geballe  observed the first positive result of COVID-19 pandemic last Friday. State Epidemiologist Matthew Cartter announces the number of positive patients has increased to 11, including a Greenwich resident who was tested in Utah
State Epidemiologist Matthew Cartter says several of the new COVID-19 cases resulted from family transmission
State Epidemiologist Matthew Cartter says Greenwich Hospital, Bristol Hospital and Waterbury Hospital have set up isolated COVID-19 testing locations separate from main hospitals.
Department of Labor suspending work search requirements for unemployment benefits and another mandate that requires certain recipients appear in-person at American Jobs Center, COO Josh Geballe  said.
They are developing more ways to tele-med with Medicare and Husky patients…over 850,000 people effected.
Trump has declared a National Emergency
Connecticut officials banned utilities Friday from shutting off services to customers and warned of heavy demand for absentee ballots in the state's upcoming presidential primary as hospitals braced for more patients with the coronavirus.
Governor Lamont issues new order prohibiting gatherings of over 250 people
Governor Lamont waived mandatory 180 day rule for schools. Schools can decide if June 30th will be their last day if they do not reach the threshold prior.
Live Nation recommending suspending all tours through April
Disneyworld/Disneyland both shut down operations
 All jury trials, civil and criminal, in state courts are suspended for 30 days — minus current cases in progress.
The DMV is ordering a 90- day extension on all license renewals
NBA suspended (per NBA Commissioner Adam Silver) at least 30 days. – MLB suspended till further notice. – NHL suspended till further notice – XFL suspended- till further notice – March Madness canceled – Masters postponed – MLS suspended 30 days – Champions League canceled – SEC, AAC, ACC, Big 10, Pac-12, Big East, Ivy League tournaments canceled – Premier League suspended until April – NFL cancels league meetings
---