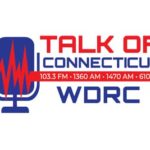 A Hartford police officer was arrested in Massachusetts in connection to a domestic violence incident that happened in October. Officials say that Lieutenant Luis Ruiz was placed on administrative duty while the incident is being investigated. 

A building in Manchester was deemed unsafe yesterday after a car crashed through it. Officers say that an SUV went through the front of 213 Spencer Street and struck a support column inside. Two people sustained minor injuries. The building suffered structural damage. The crash remains under investigation.
A Bloomfield man is dead after a motorcycle and car collided in Mansfield on Saturday. Officers say 66-year-old Roy Herzlich was riding his motorcycle on Route 44 when a vehicle struck him head on. He was pronounced dead at the scene. The driver and the passenger in the vehicle were uninjured. The crash remains under investigation. 
A Hartford man was arrested last week for allegedly having over 30 grams of fentanyl and an illegal firearm. Officers say that they witnessed 35-year-old Moses Rodriguez participating in a suspected drug transaction and conducted a traffic stop on Brainard Road on Thursday. Rodriguez is facing multiple charges. He was released on a $500,0000 bond and is due back in court November 17th.