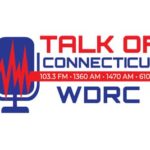 The man who was found guilty of murdering 28 year old Marquis Treadwell of Hartford in a February 2020 shooting outside of a night club has been sentenced. Joshua Saez was sentenced to 30 years in prison with special parole after 10 years.


Police in Hartford say that they are looking for two suspects involved in an armed robbery on Franklin Avenue early yesterday morning. A victim was walking through the Dollar Tree parking lot when two men with guns approached him and demanded his jewelry and satchel. Anyone with information is asked to call police. 
Yesterday East Hartford City officials celebrated the opening of the new Silver Lane Pedestrian Bridge, which goes over Willow Brook in East Hartford. The town hopes to eventually extend the walking path to Forbes Street and add additional lighting.
Yesterday Connecticut Attorney General William Tong touted the state's new law on online privacy. The Connecticut Data Privacy Act, signed into law last month, implements privacy standards and gives people certain rights over their own data. Tong said that while people can make the decision not to use other businesses, there's not always a choice with online platforms.