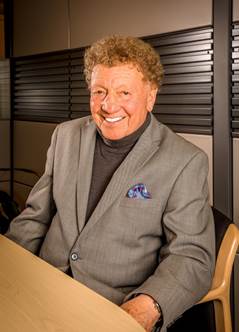 MONDAY to FRIDAY -- 05:00 AM - 09:00 AM
Brad Davis, Host: The man, the myth, the legend! Brad Davis is an over 50 year veteran in media. The Connecticut Radio Hall of Famer is considered one of the most legendary names in the field and his status in the state of Connecticut is nothing short of iconic.
In 1977, Brad Davis took the helm of mornings on WDRC-AM. News and talk has never been the same in  Connecticut since.
A native of Stafford Springs, Brad was raised on his grandfather's dairy farm in the
Hazardville section of Enfield. After serving in the U.S. Marines he worked at WACE in Chicopee in 1956. An advertising executive heard Davis talking about milk on one of his shows and invited him to audition as host for a new program on WTIC TV-3 in Hartford. The show began airing September 27, 1958 and ran for 11 years—The Brad Davis Show was Connecticut's answer to Dick Clark's Bandstand. It was a Saturday afternoon show featuring live local teenagers dancing to the day's hottest records – sponsored by Connecticut's milk producers.
In 1969 Brad was teamed with John Sablon on Channel 3's "What's Happening", an investigative public affairs show. He was a frequent emcee at community events including the annual lighting of the holiday decorations at Constitution Plaza.
Brad Davis, AKA "Mr. Connecticut" started at WDRC April 11, 1977. His early WDRC shows were primarily music-oriented, but Brad relied heavily on telephone calls from listeners. Gradually guests were added and for several years the show has been predominately talk-oriented. He is at home with governors, community leaders, movers and shakers.
Brad is a tireless supporter of many worthwhile nonprofit organizations, lending his talents to emcee, auctioneer, or create awareness both on air and off for local charities. Brad gets your day started with Fox News, local news, sports, traffic every 15 minutes, weather, and most importantly – you. Listener input is always a vital part of the Brad Davis Morning Show and sometimes the discussion can be more stimulating than the strongest cup of coffee! If it's talked about around the breakfast table, at home, or at the water cooler at work, it's sure to be talked about on The Brad Davis Morning Show.
Brad's dedicated and loyal following sit up and take notice when he speaks. They react to his message and through very careful selection of endorsement opportunities throughout his more than 50 years in broadcasting, Brad's audience knows they can trust him.