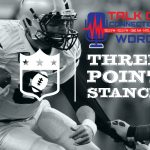 Three weeks into the NFL season and there's already many surprises: the Buffalo Bills are 3-0, the Cleveland Browns aren't living to the hype and teams like the Pittsburgh Steelers and Denver Broncos have yet to win. However it's a new week, and with that will come more story lines, more players stepping up and more chances to see an upset.
Biggest Story Line: Melvin Gordon ends his Holdout
When Los Angeles Chargers half back Melvin Gordon announced he was holding out he was holding out, Chargers fans were semi-worried. While Austin Ekeler and Justin Jackson held their own, it's hard to replace a two-time Pro Bowler. While it's unclear if he'll play this week, the Chargers are in Miami to take on the Dolphins so that should be considered a win. He should be back for their game in Los Angeles against the Denver Broncos.
Game of the Week: Dallas Cowboys vs New Orleans
We could be looking at a potential NFC championship game match-up here. The Dallas Cowboys lead by quarterback Dak Prescott have looked better than ever. Their rushing attack is lethal, their pass game has been high effective, and their defense has just been amazing.
Then comes the New Orleans Saints, a team that looked good against the Seattle Seahawks last week. Lead by Teddy Bridgewater whose playing for the injured Drew Brees, this game should feature heavy passing by Saints, mixed with designed quarterback runs.
This should be a Dallas win but New Orleans knows how to make things interesting. The Superdome will be rockin' on Sunday Night.
Hail Mary of the Week: Cleveland Browns vs Baltimore Ravens
On paper, this game looks to be like a blowout in the making. Baltimore has the best offense in the NFL, and Cleveland has not lived up to their hype. This game though, may be closer than people think.
Head coach Freddie Kitchens has not fared well in his current roles' debut, however, each week, the offense has looked better. They've been giving half back Nick Chubb the ball more, quarterback Baker Mayfield, while still rushing passes, has looked a bit better and better, they're still waiting for that break out game.
On the hand though, the Ravens defense has looked rough. They have one of the worst passing defenses, the rushing defense hasn't looked bad but has left a bit to be desired.
Cleveland was able to handle the Los Angeles Rams defensive line, one of the best in the NFL, pretty well. If the blocking is there, then the Browns have a good shot to upset the Ravens. The game against Kansas City showed that their defense couldn't handle a good ariel assault. If Cleveland takes advantage, this is game to win.
---