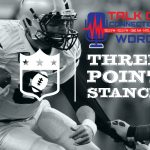 After one of the nosiest offseasons in recent memory, the NFL is back with a bang! Here at the Talk of Connecticut, we like to get you ready for your work with the biggest story lines, which game will be the biggest and which game may actually surprise as a good one. It's time to start the weekend off right!
Biggest Story line of the Week: Antonio Brown decides on a helmet
Under most circumstances, this would be a non-story. The problem is, Oakland Raiders wide receiver Antonio Brown was so vocal about it that it overshadowed Dallas Cowboys running back Ezekiel Elliott getting his massive contract. It's easy to say that nobody cares because Raiders could be awful, but their recent appearance on the popular HBO show NFL Hard Knocks makes it nearly impossible to ignore.
The actual story attached to this is that after two failed attempts at filing grievances against the league over his helmet, Brown finally has found a helmet he likes.
The only thing now is he needs to do now is pay the team sanctioned fines for missing time, which is about $54,000.
Game of the Week: Pittsburgh Steelers vs New England Patriots
To us in Connecticut, this wouldn't be an out of ordinary game, however it's more so what is attached with this game that really drives up the interest. Both sides were constantly in the headlines for departures.
The Patriots lost one of their biggest names when tight end Rob Gronkowski announced he was retiring. They would lose many other notable names including tackles Trey Flowers, Malcolm Brown and Trent Brown, as well as wide receiver Chris Hogan. Meanwhile the Steelers traded away Antonio Brown and let running Le'Veon Bell and safety Morgan Burnett walk.
Despite all of this though, it's a battle between two top tier quarterbacks, two top tier coaches, and both teams have something to prove. What a way to kick off Sunday Night Football!
Hail Mary Game of the Week: San Francisco 49ers vs Tampa Bay Buccaneers
Let's be honest, they're both awful. San Francisco has yet to prove they can live up to the expectation of that first half season after acquiring quarterback Jimmy Garopollo. No matter how much the 49ers have bolstered their defense or even their offense, they never can seem to put it together. Meanwhile The Buccaneers, despite plenty of weapons have been disappointed by the likes of quarterback Jameis Winston. This is a make or a break year for both quarterbacks.
This game carries the merits that one of these team has a chance to kick start their season the right way. We've seen plenty of NFL season where a team nobody saw coming bursts onto the scene. This game has the opportunity to turn one of these potential draft lottery picks into a shocking playoff contender, the other, better luck next year, if not next week.
---