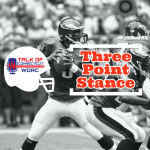 After an unpredictable week one in the NFL that saw a major upset in Cleveland, and the Antonio Brown story heat up in New England. However, it leaves up to task, the basic question, whats next? What teams will be on upset alert, who will maintain their hot streak. Let's take a look, here with the Three Point Stance, week 2!
Biggest Storyline of the Week: Sam Darnold is Out
In a game that could provide a boost to two teams that both lost in their opening day match ups, the Cleveland Browns and the New York Jets didn't need another storyline. However, they got one. It was announced early Thursday that Jets' quarterback, Sam Darnold would miss this Monday Night's game.
Starting in place of Darnold will be back up quarterback Trevor Siemian, who last started an NFL game for the Denver Broncos about two years ago.
Darnold and the Jets last year was the Browns first win in nearly two years, and set in motion one of their best seasons since their return. He'll miss his chance at revenge against them.
Game of the Week: New Orleans Saints vs Los Angeles Rams
In a game that features who of the better teams in the NFL, this game will undoubtedly raise questions. The biggest of which would come if the Saints win.
Following last year's most controversial call in the NFC Championship Game, which even lead to a rule change, this could be the game that sees the Saints pull it off. However given that the Rams are still lead by offensive guru Sean McVay, this game could be a shoot out.
Hail Mary of the Week: New England Patriots vs Miami Dolphins
For lack of a better word, last week, the Miami Dolphins flat out sucked. In most cases, this would be the game to skip.
The one thing though, whenever Dolphins host the Patriots, it can be something to watch. Since 2013, the Dolphins have beaten the Patriots every year in Miami, except for 2016. In that time, the game has even come down to one possesion, including last year's wild finish where the Dolphins lateralled a lot to win the game.
While the Patriots should roll, strange things happen in this game. The Patriots have a chance to finish the 2010's at .500 in Miami. It could be a good game, don't sleep on it!
---